Visit Our Shop
Our Dedicated Shop
Opening Times for the Shop
The shop is open to customers Tuesday to Friday - Noon till 5pm and Saturday's 10-4pm. We are closed Monday and Sunday.
We can also arrange click and collect outside of these hours and can also post items out.
You Can Find Us At:
Midlam Miniatures, Unit A7, Stonehills, Shields Road, Pelaw, Gateshead, NE10 0HW.
The nearest Metro station is Pelaw, only five minutes walk from our shop. Leaving the station, head to the main road, turn right, and shortly, past the traffic lights, you will see the Stonehills Estate on your right.
On entering the estate, by foot or by car, take the second (of three) entrances to your right, go straight on, past Pride Media, right to the end, and we are on the right, on the corner. There is ample free car parking at the end of the road, on the right. Please ignore any parking warnings as you approach, as all customers are allowed to park there while at the shop.
You may need to ring the front doorbell when you arrive, this is because we are often working upstairs (on our secret projects!) and may take a moment or two to answer the door.
While you are at Stonehills, be sure to visit Graham's Wuerkshoppe, which is the third right on the estate, and part of Combined Arms Ltd. Graham has an amazing shop, which is an Aladdin's cave of new and used miniatures and wargaming material. See Stockists for more details on Graham's shop.Our E-Bay Store
Some of our items are listed on e-bay, where we have an e-bay shop page, which you are welcome to purchase from, or contact us direct. Prices may be different directly from us.
We appreciate your support at this difficult time. Stay safe everyone!
All the best
Midlam Miniatures
ARCHIVED PAGE
NOTE: A lot has changed since these pics were taken. We have a lot more stock, and if you spot something on the old shelves, it's almost certainly gone!
Midlam Miniatures is located in the North East of England at Pelaw near Gateshead. We are five minutes walk from Pelaw Metro station, which provides easy access from both Newcastle upon Tyne and Sunderland.
We sell not only our own games, miniatures, dice and bases, but new board games (at approximately 10% off RRP, and we can order in games for you) and a selection of second hand books and games. We also have tables to play board games on.
Our current opening hours are 10am-6pm, Monday to Saturday. Please ring the doorbell for entry.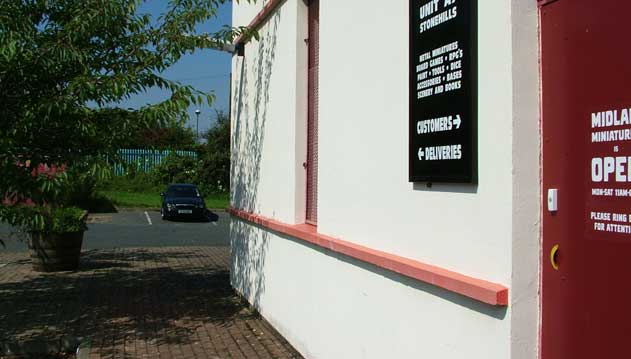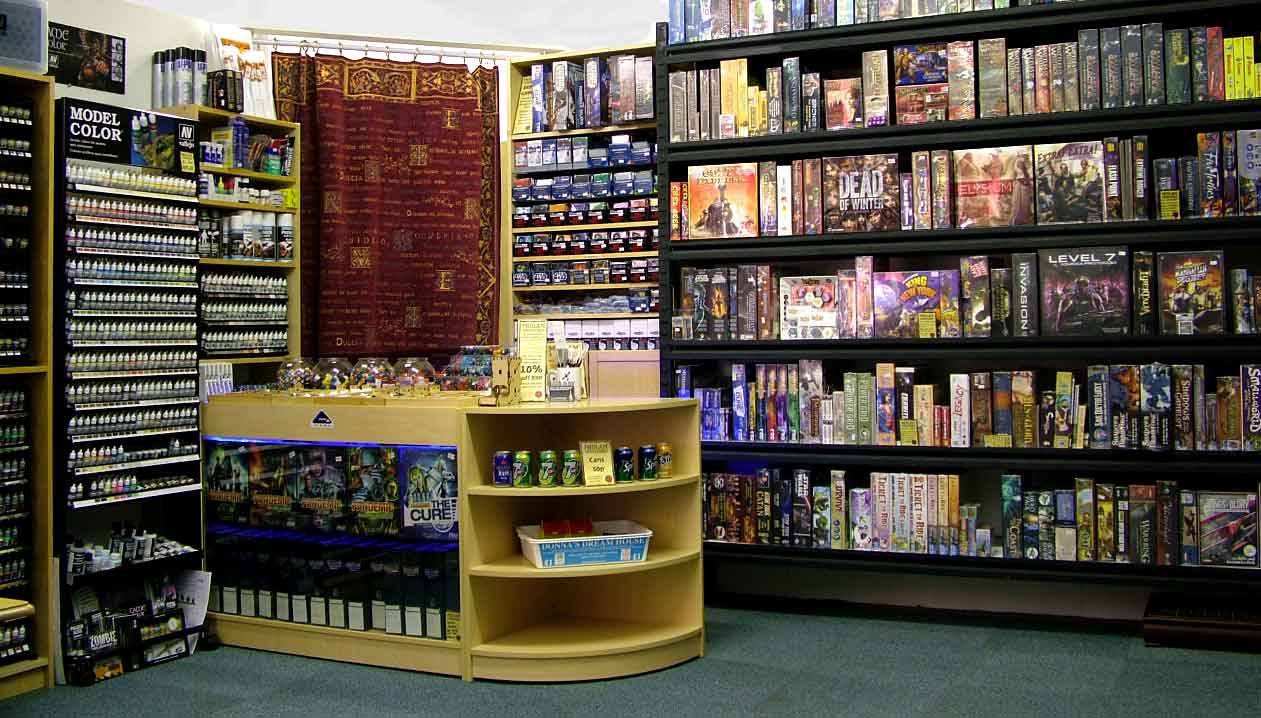 Midlam Miniatures
We have our own 28mm fantasy miniature range, suitable for most fantasy games and rpg's. The full range is available in store as well as on this website. We also have our magically glowing display cabinets which feature painted examples of most of our miniatures.
Board Games
We have undoubtedly, one of the best selections of board games in the North East, with new additions all the time, so feel free to come along and browse. We can also order in games for you (and keep them on our reserved shelf) and our prices are typically up to 10% below RRP.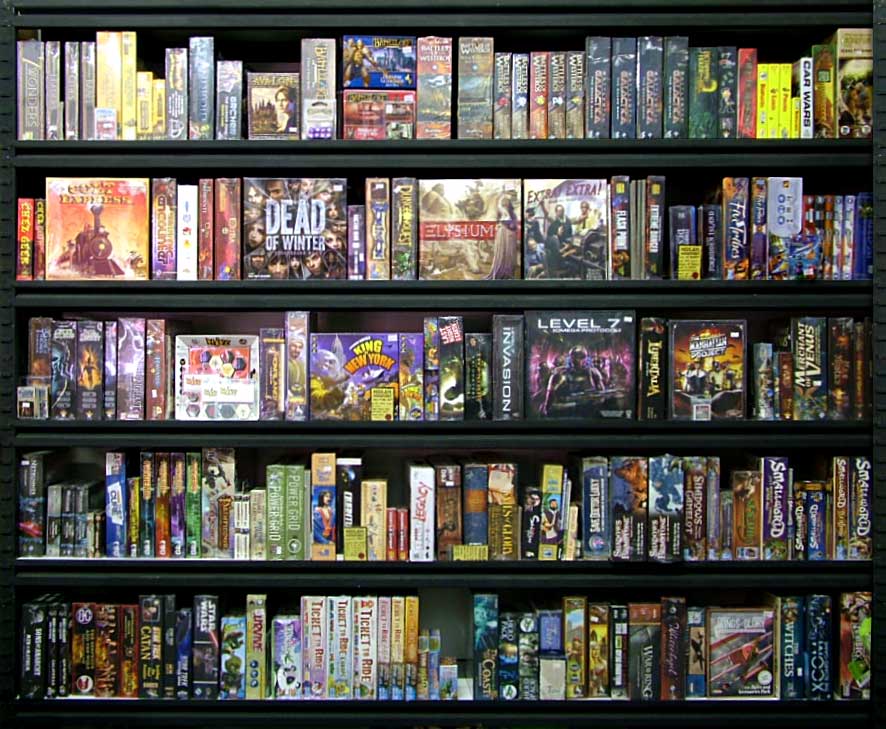 Supported Games:
Here at Midlam, among the many games we stock, we make an extra effort to support the games loved by us and our customers, meaning we keep and maintain a stock of that game and its expansions. Games we support include Agricola, Armada, Battlelore, Battles of Westeros, Battlestar Galactica, Carcassonne, Catan, Descent, Dragon Dice, Dungeons & Dragons (5th Ed.), Firefly, Flash Point, Fluxx, Formula D, Game of Thrones (2nd Ed.) and LCG, Ghost Stories, Imperial Assault, Lord of the Rings LCG, Munchkin, Netrunner, Pandemic, Power Grid, Relic, Small World, Sons of Anarchy, Spartacus, Star Wars LCG Talisman, Ticket to Ride, Touch of Evil, and X-Wing among others.
"Do you Stock?"
We often get asked if we stock certain games or lines of games. The simple answer is, we support the games our customers support. So, if you always buy the latest Netrunner pack or Descent expansion from us, we'll always ensure we get them in, and usual extra stock as well. We're always happy to order in any games we can for you, and reserved them in shop.
Zombies!!!

Catan: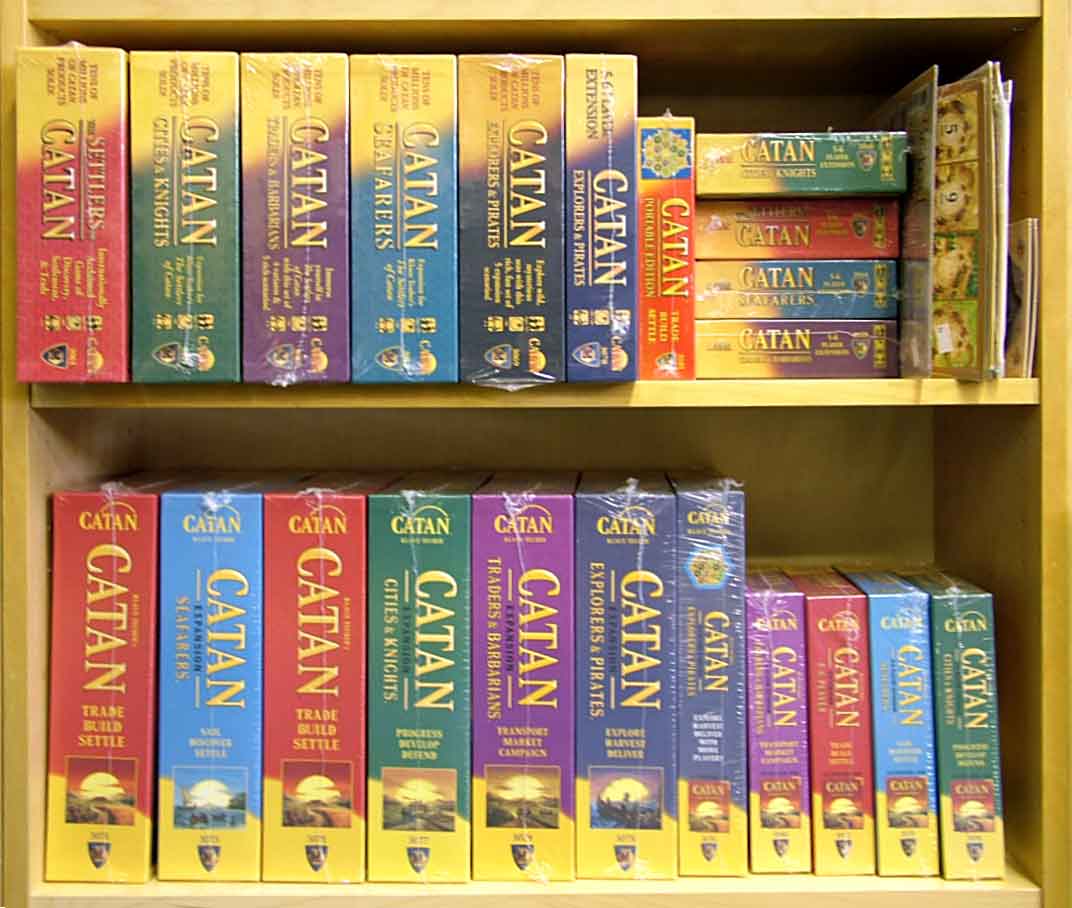 D&D 5th Ed: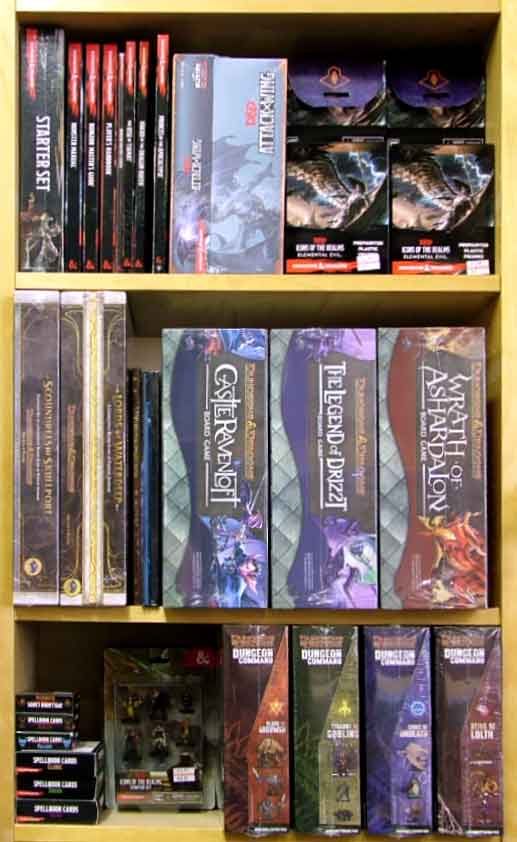 X-Wing: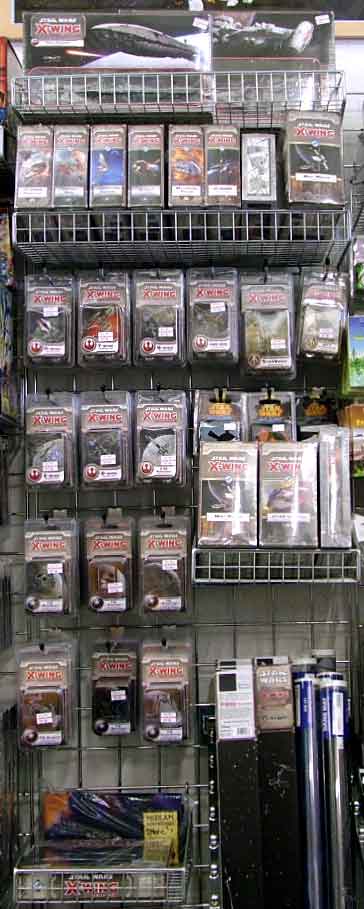 Imperial Assault: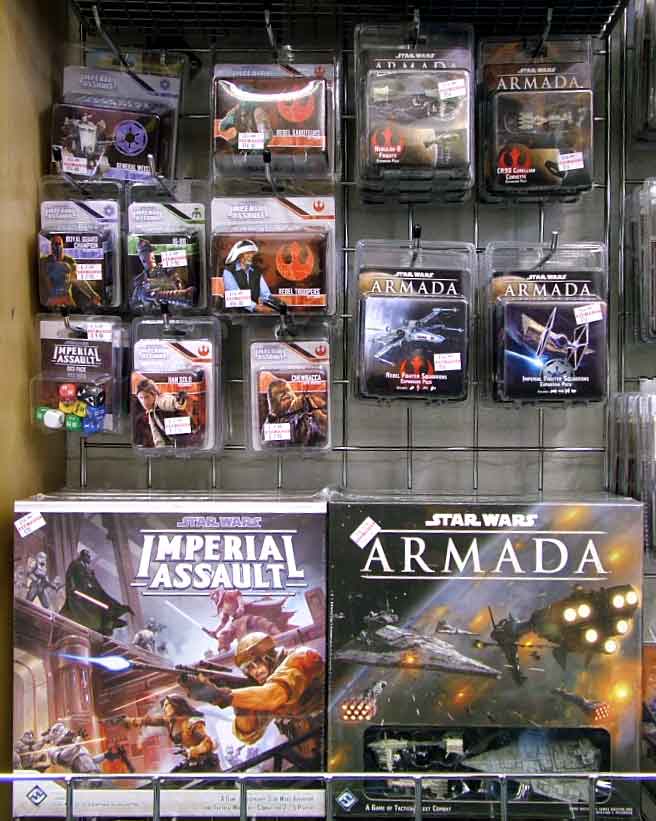 Vallejo Paints
At our shop we stock the full range of Model Colour, Game Colour, Game Air, plus a wide selection of Model Air paints as well as numerous Vallejo accessories. We have one of the best selections of Vallejo paints, at a reasonable price, in the North East.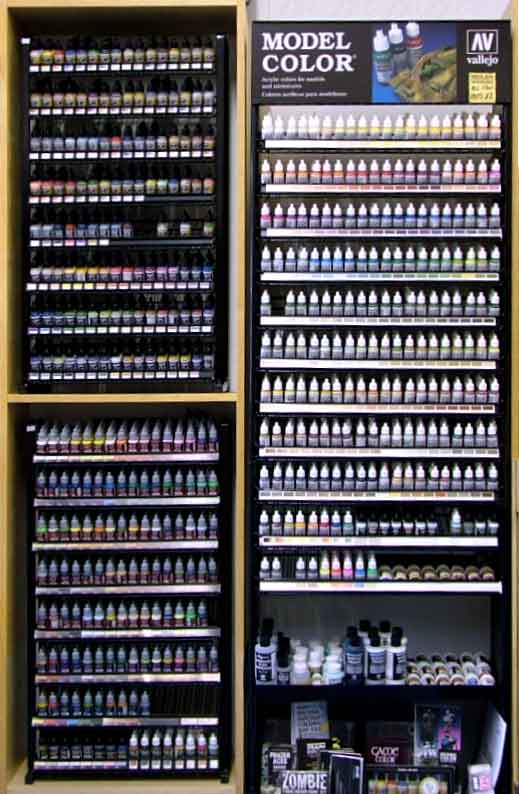 Dragon Dice:
Dragon Dice™ is a highly-successful game that premiered in 1995 and still enjoys a strong, loyal following 20 years later. Not only do we stock and sell Dragon Dice, but we also play it and promote it too, such is our love for the game. It is a really fun game of both strategy and luck, suitable for 2 or more players.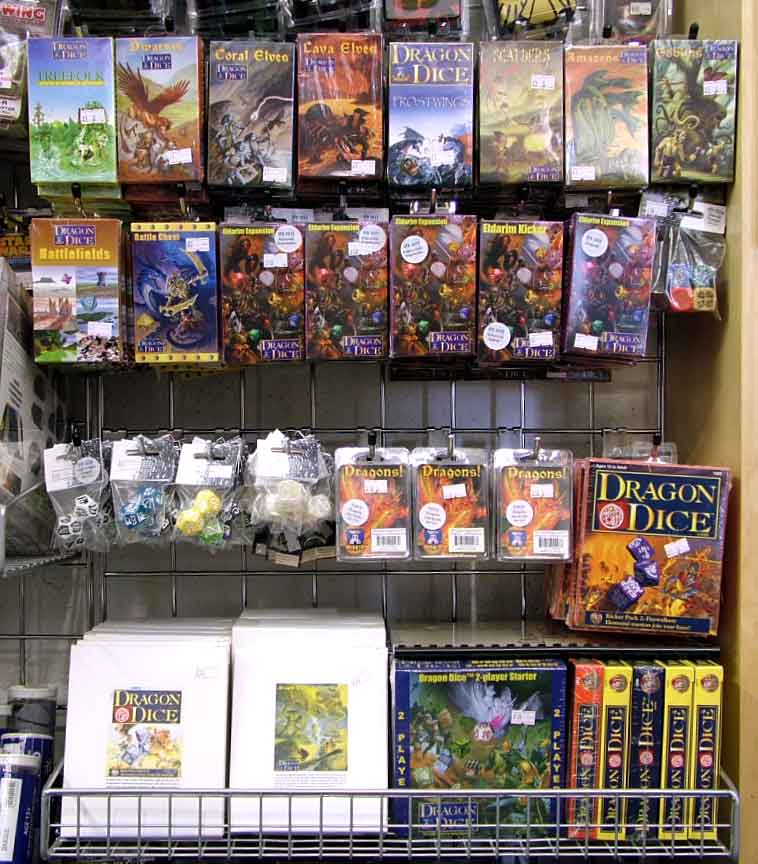 Cthulhu Cthorner:
Also, we know, that when the stars are right, Cthulhu will return to judge those who have been true to him, so we maintain our own personal shrine at Chthulhu Cthorner where we stock everything from The Call of Cthulhu to Plush Tentacles, as well as supporting: Arkham Horror, Elder Sign, Eldritch Horror (our personal favourite game) and Mansions of Madness.